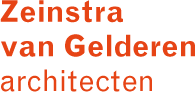 Bus House
This time it's simply my bedroom, but the colour has to do the job here, and through its being simplified by giving a grander style to things, to be suggestive here of rest or of sleep in general. In short, looking at the painting should rest the mind, or rather, the imagination.
The walls are of a pale violet. The floor is of red tiles. The bedstead and the chairs are fresh butter yellow. The sheet and the pillows very bright lemon green. The blanket scarlet red. The window green. The dressing table orange, the basin blue. The doors lilac. And that's all. Nothing in this bedroom, with its shutters closed.
Vincent van Gogh in a letter to his brother Theo, Arles, 1888
Project
Bus House
Client
Art Committee Ede
Design
Jurjen Zeinstra, Mikel van Gelderen
Structure
Marco van Zuilen
Contractor
Anything is Possible, Nimis Beton
Art Commission
2018
> Download this project (pdf)

Asked to create a public art work for a school campus in the town of Ede, the architects decided to concentrate on what they considered to be the most used meeting place for all students of the campus: the bus stop. Bus House, situated next to the bus stop, is a small concrete house and has an outspoken archaic appearance, with a pitched roof, chimneys and shuttered windows. Its protruding roof in the front offers a covered space for students waiting for the bus to arrive. All facades are closed: the only opening that gives a look inside is a bronze key hole in the front door. Peeping through this opening, the viewer will see a strange, but familiar bedroom: a reconstruction in concrete of Vincent van Gogh's famous painting, lit by the roof-light in the chimney. Whereas Van Gogh's painting shows a variety of coloured surfaces, with no indication of shadows, this interior does the opposite: it shows no colour but the grey concrete and the mysterious play of light and shadow.